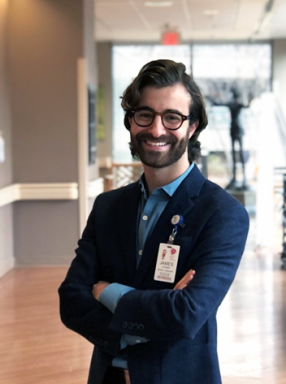 James Schembri - Director, SOHT
James Schembri brings a deep understanding of Ontario Health Teams, having held the position of Project Manager for North York Toronto Health Partners Ontario Health Team since 2019. He is also well-versed in digital health and senior care. A graduate of University of Toronto's Master of Health Sciences in Health Administration and a Certified Health Executive, James has led multiple initiatives in the health care sector, with proven experience in stakeholder engagement, implementation and change management activities in both public and private health settings. As Director of SOHT, James will help to operationalize and implement our strategy and will provide leadership and operational and project management support for SOHT initiatives.
Tiffany Wu - Manager, SOHT
Tiffany Wu brings a unique blend of clinical, operational, and health system planning experience to the SOHT. Tiffany came from Unity Health Toronto – Providence Healthcare site, where she was a patient flow coordinator and operations leader for the COVID-19 vaccination clinic. She was also actively involved in the North York Toronto Health Partners vaccination table. Tiffany holds a Master of Health Sciences in Health Administration degree from the University of Toronto and is a registered Occupational Therapist who has practised in both rural and urban settings in Ontario. She is passionate about nurturing system partnerships and is committed to uniting diverse stakeholders to achieve the common goal of delivering better and more integrated care in Scarborough. 
Justine Manna - Coordinator, SOHT
Justine Manna joins SOHT after two years of working in Mount Sinai's emergency department supporting patient flow. A Health Policy graduate of York University, Justine is passionate about improving population health outcomes by increasing access to health services and enhancing the continuum of care. Her background includes working with vulnerable populations in the City of Toronto's Shelter, Support and Housing Administration and supporting quality improvement and health literacy projects at the Scarborough Health Network.

Yemisi Iyilade - Project Manager, SOHT
Yemisi Iyilade is a diligent project manager with over 10 years of experience developing new products and services, providing leadership, and facilitating meaningful engagement with stakeholders. She has worked in the Environmental, Non-profit, and Technology industries, demonstrating success in managing complex simultaneous projects. Yemisi is passionate about participating in codesign projects and firmly believes that collaboration plays a crucial role in creating successful innovations. She is confident in her leadership abilities and always seeks for opportunities to promote growth among her team members.
Chris Alappat - Digital Health Lead, SOHT
Chris is a Project Manager and an experienced Physiotherapist with a demonstrated history of working in the hospital & health care industry for over 15 years. He is a results-oriented healthcare leader with a proven track record of success in implementing collaborative system solutions. He has worked across the continuum of care, from acute to rehab to home and community in various roles as a clinician, educator, supervisor, and project manager at academic teaching hospitals, private clinics, the WWLHIN, and the eHealth Centre of Excellence. Chris is passionate about working with healthcare partner organizations to create a digital strategy that will support our collective goal to optimize the delivery of integrated care for all Ontarians.
Kishwar Ali - Coordinator, Scarborough Family Physicians Network
Kishwar Ali is a task-driven Research/Administrative Coordinator with over 8 years experience in managing patient-centered clinic and research operations at University Health Network (UHN). She is equipped with exceptional ability to facilitate all aspects of internal and external communications, support the day-to-day administrative, financial and operational functions by working collaboratively with Physicians/Researchers, Staff and Patients. She has extensive research experience in the areas of mental health with a few publications to her name. She has also assisted with the coordination of various activities, meetings, conferences, and workshops. Kishwar has earned her bachelor's degree in Health Sciences from Brock University and a master's degree in Public Health from McMaster University.
Naomi Abegunde - Manager, Scarborough Family Physicians Network
Naomi Abegunde brings a wealth of experience from her prior role as Coordinator of Strategy and Information at West Park Healthcare Centre and from her work with the West Toronto Ontario Health Team. As an integral member of the vaccination team at West Toronto, she provided leadership, project management and operations support to two vaccination clinics. Naomi holds a Master of Health Informatics degree from the University of Toronto and is a certified Project Management Professional with experience managing multiple projects, supporting implementations and collaborating with stakeholders.