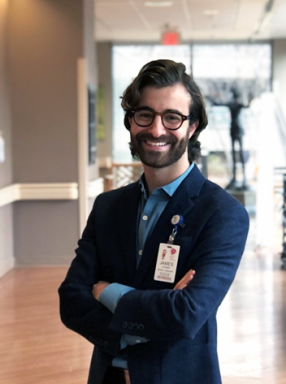 James Schembri - Directeur, ÉSOS
James Schembri apporte une connaissance approfondie des équipes santé Ontario, puisqu'il occupe le poste de chef de projet pour l'équipe santé Ontario North York Toronto Health Partners depuis 2019. Il est également très au fait de la santé numérique et des soins aux personnes âgées. Diplômé de la maîtrise en sciences de la santé de l'Université de Toronto en administration de la santé et cadre certifié en santé, James a dirigé de multiples initiatives dans le secteur des soins de santé, avec une expérience éprouvée dans l'engagement des parties prenantes, la mise en œuvre et les activités de gestion du changement dans les milieux de la santé publics et privés. En tant que directeur de ÉSOS, James aidera à opérationnaliser et à mettre en œuvre notre stratégie et fournira un leadership et un soutien opérationnel et de gestion de projet pour les initiatives de ÉSOS.
Tiffany Wu - Gestionnaire, ÉSOS
Tiffany Wu apporte à l'ÉSOS un mélange unique d'expérience clinique, opérationnelle et de planification du système de santé. Tiffany vient du site de Unity Health Toronto - Providence Healthcare, où elle était coordinatrice des flux de patients et responsable des opérations pour la clinique de vaccination COVID-19. Elle a également participé activement à la table de vaccination de North York Toronto Health Partners. Tiffany détient une maîtrise en sciences de la santé en administration de la santé de l'Université de Toronto et est une ergothérapeute agréée qui a exercé en milieu rural et urbain en Ontario. Elle est passionnée par l'établissement de partenariats avec le système et s'engage à réunir divers intervenants pour atteindre l'objectif commun de fournir des soins de meilleure qualité et plus intégrés à Scarborough. 
Farid Ahmad Rahmani- Community Engagement Specialist, SOHT
Farid joins SOHT with over 6 years of experience in community engagement from his work with United Nations Children Fund in Afghanistan and the Scarborough Centre for Health Communities. Farid's extensive academic qualifications include a master's degree in Public Health and an MD degree. His experience in project implementation, outreach, research, and data analysis will assist him in ensuring that services and the development of an engagement framework will both capture and incorporate the voices, experiences, and value of Scarborough residents. 
Yemisi Iyilade - Project Manager, SOHT
Yemisi Iyilade is a diligent project manager with over 10 years of experience developing new products and services, providing leadership, and facilitating meaningful engagement with stakeholders. She has worked in the Environmental, Non-profit, and Technology industries, demonstrating success in managing complex simultaneous projects. Yemisi is passionate about participating in codesign projects and firmly believes that collaboration plays a crucial role in creating successful innovations. She is confident in her leadership abilities and always seeks for opportunities to promote growth among her team members.
Chris Alappat - Digital Health Lead, SOHT
Chris is a Project Manager and an experienced Physiotherapist with a demonstrated history of working in the hospital & health care industry for over 15 years. He is a results-oriented healthcare leader with a proven track record of success in implementing collaborative system solutions. He has worked across the continuum of care, from acute to rehab to home and community in various roles as a clinician, educator, supervisor, and project manager at academic teaching hospitals, private clinics, the WWLHIN, and the eHealth Centre of Excellence. Chris is passionate about working with healthcare partner organizations to create a digital strategy that will support our collective goal to optimize the delivery of integrated care for all Ontarians.
Justine Manna - Coordinator, SOHT
Justine Manna joins SOHT after two years of working in Mount Sinai's emergency department supporting patient flow. A Health Policy graduate of York University, Justine is passionate about improving population health outcomes by increasing access to health services and enhancing the continuum of care. Her background includes working with vulnerable populations in the City of Toronto's Shelter, Support and Housing Administration and supporting quality improvement and health literacy projects at the Scarborough Health Network.
Kishwar Ali - Coordinator, Scarborough Family Physicians Network
Kishwar Ali is a task-driven Research/Administrative Coordinator with over 8 years experience in managing patient-centered clinic and research operations at University Health Network (UHN). She is equipped with exceptional ability to facilitate all aspects of internal and external communications, support the day-to-day administrative, financial and operational functions by working collaboratively with Physicians/Researchers, Staff and Patients. She has extensive research experience in the areas of mental health with a few publications to her name. She has also assisted with the coordination of various activities, meetings, conferences, and workshops. Kishwar has earned her bachelor's degree in Health Sciences from Brock University and a master's degree in Public Health from McMaster University.
Naomi Abegunde - Gestionnaire, Réseau des médecins de famille de Scarborough
Naomi Abegunde possède une vaste expérience acquise dans le cadre de son rôle de coordonnatrice de la stratégie et de l'information au West Park Healthcare Centre et de son travail au sein de la West Toronto Ontario Health Team. Naomi est titulaire d'une maîtrise en informatique de la santé de l'Université de Toronto et est une professionnelle de la gestion de projet certifiée qui a de l'expérience dans la gestion de plusieurs projets, le soutien à la mise en œuvre et la collaboration avec les intervenants.